FIELD SERVICE
SOFTWARE SOLUTIONS
BETTER RELATIONSHIPS
WITH CUSTOMERS
Tap the sensor, record the work, keep the
customer happy. It's simple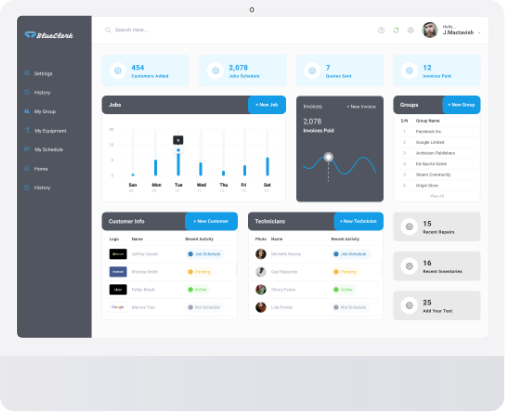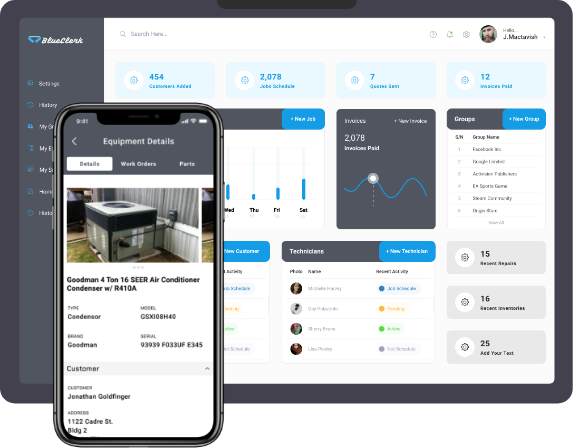 The first SaaS platform that is IoT centered. Connect units to the cloud and see in real-time how efficient contractors and employees are.
BlueClerk allows businesses to log work, track inventory, and much more. Sign up today!
Open the app, scan the tag, record. It's that simple
Features that BlueClerk can offer your business
Easily add to work orders
Technicians can add work through the mobile app, which updates the work order for the next time a technician is on site
Purchasers of these tags have complete control over who can and cannot scan tags. If an outside user needs to scan, just add them as a vendor
Contractors and vendors can be managed through the system, with a simple search. If a contractor is not in the system, an invite link is sent.
By pulling a past work history, technicians can match up previous work and know what to check. This can reduce the chance of injury
Full Integrations and Billing
Quickbooks Online integration and a billing system built in provides constant flow and support to meet customer's needs
Real Customers. Real Results.

Chris Norton
BlueClerk helps our repair techs log work and view history. When it comes to repairing fitness equipment, you never know what the last person did. Scanning a tag and viewing history creates a safer environment for our technicians.
Owner, Norton Fitness

Jason Jackson
BlueClerk software has helped me save time by logging work with my customers. Whenever I perform work on a unit that someone else worked on previously, it saves time by pulling the history up with just one scan. Additionally, this keeps me in a safer environment
Owner, Jackson HVAC